Addisyn, Avery & Bella
Age: 12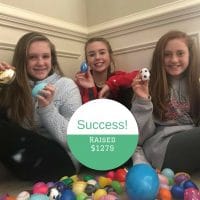 Charity:

Ronald McDonald House
Fundraising Goal:

$600
Project:

Egg My Yard
Date:

March 23 - April 1, 2018
Location:

Houses in the Cumming Area
---
Why I Choose The Charity
We are three past Kids Boosters who raised a combined total of $2661 for three great organizations (Children's Healthcare of Atlanta, Lighthouse Family Retreat and Bert's Big Adventure).  We are ready to do our next Kids Boost project but this time we are combining our efforts to raise money for  The Ronald McDonald House.  We chose Ronald McDonald House because we all want to help kids and families who have medical needs.  We like that The Ronald McDonald House helps families stay close to the hospital and provides food, rest and support to the whole family.
How I Plan To Raise The Money
We want to EGG YOUR YARD!  We will create Easter egg hunts for your family.  For a donation to our project, we will provide the Easter egg hunt for you to enjoy.  We will stuff eggs with candy and toys… and can even accommodate for allergies.  Plus, we will even have options for prize eggs! All you have to do is tell us a little about your family and sign up for a good time for us to come.  We can hide at night so the egg hunt will be ready when the kids wake up the next morning or we can hide during the day for a family party.  Pricing starts as low as $20 and all of the money goes to a great cause.  (Because we are only 12, we are not able to provide egg hunts outside of the city of Cumming… maybe in a few years!)
If you are interested in having us create an Egg Hunt for your family, follow these steps:
Sign up HERE for a date and time frame that works best for you.
After you sign up, we will email you a form to fill out with more information.
Return the form with your donation and we will do the rest!
Not into Egg Hunts? If you want to help us reach our goal, you can donate through this page or you can help us with some of our wish list items on our Amazon Wish List here. You can purchase items directly from the list or you can bring us treats or plastic eggs if you already have them.  We really appreciate your help!