Autumn M
Age: 6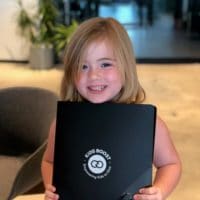 Charity:

Winship Cancer Institute
Fundraising Goal:

$1000
Project:

Autumn's Fun Festival
Date:

August 10, 2019
Location:

Hope Community Church
---
Why I Choose The Charity
I chose Winship Cancer Institute because I want to help sick people.  I like watching them walk out of the hospital because I don't like seeing them sick.
How I Plan To Raise The Money
I am raising money for sick people by holding a fun festival with an obstacle course attached to it. We will also have a bounce house, games, bake sale, lemonade stand, mystery bags and raffle. It's going to be extra fun, so come join us for the best day ever! Entry into the festival is FREE, but concessions and a raffle will be available, so bring cash! Entry into the Kid's Obstacle Course Race is $15 and you can register by following this link: https://bit.ly/2SjZ1eH
If you cannot attend my event but would like to help me reach my goal, you can make a tax deductible donation through this page.  Just be sure to click the "support me" button and put my name in the participant name section.
I also made a wish list on Amazon for some of the supplies I will need to make my festival extra special.  If you would like to purchase something, please click here.
Thank you for helping me help sick people!