Bella O
Age: 11
Charity:

Bert's Big Adventure
Fundraising Goal:

$1000
Project:

Bella's Bake Sale
Date:

July 26, 2017
Location:

Rosati's Pizza in Cumming, GA
---
Why I Choose The Charity
I want to support Bert's Big Adventure because it helps kids who are sick and I think it's really important for them to get the chances that we do.  I think it's really special for families to get to go on a week vacation that's all paid for and not have to worry about the bills coming in on top of the medical bills. Overall it is a very special time for the family and it is a very life-changing experience for the kids.  That is why I want to support Bert's Big Adventure.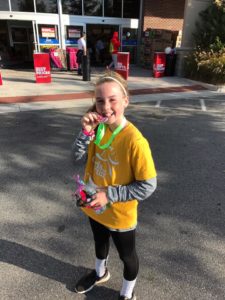 How I Plan To Raise The Money
I plan to raise the money by hosting a huge bake sale at the Atlanta Moon Ride and at Rosati's in Cumming.
A special thanks to Mae's Bakery  for not only teaching me how to make delicious treats, but also donating supplies to help make this even bigger and better!
If you would like to help me bake or donate baked goods, please email kristen@kidsboost.org.
THANK YOU!