Ellie P
Age: 9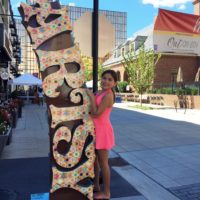 Charity:

Angels Among Us Pet Rescue
Fundraising Goal:

$1000
Project:

Bead Jewelry
Date:

May 11, 2019
Location:

Indie Arts Alliance
---
Why I Choose The Charity
I chose Angels Among Us because my first dog, Sassy, was from there. I want to help animals in need.
How I Plan To Raise The Money
I want to plan an event to make your own bracelet or Mother's Day bracelets and make bracelets to post online for sale.
My first event will be on Saturday, February 16, 2018 from 11-3
 Hollywood Feed (3000 Old Alabama Rd Suite 124, Alpharetta GA 30022)
Come purchase a beautiful bracelet to support Angels Among Us while visiting with the puppies (or even adopt one!) Bracelets are $10 each.  See you there!
My second event will be Sunday, April 14th from 2-4
Champion Kids (1465 Canton Road Marietta GA 30066)
The cost is $15 a person which includes 2 hours of play time, refreshments and the opportunity to make a bracelet to take home.
My final event will be Saturday, May 11, 2019 from 12-3
Indie Art Alliance (1565 Roswell Street SE, Smyrna)
Stop by and check out all of my handmade bracelets.  You can purchase one for $5.
If you cannot make my event but would like to help me reach my goal, you can make a tax deductible donation through this page (just make sure to put Ellie under Participant Name).
Thank you for helping me help animals!