Izzy and Katie
Age: 8 and 10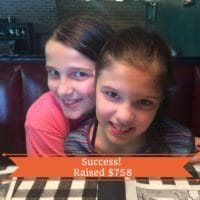 Charity:

Furkids
Fundraising Goal:

$2500
Project:

Art for the animals
Date:

Various Dates (see below)
Location:

Various Locations (see below)
---
Why I Choose The Charity
We chose Furkids because we love animals and want every person to have the chance to adopt a pet. Also we want every animal to get the care and love they need. Furkids is an awesome organization because it is a no-kill / no cage shelter. They save dogs and cats that have been in horrible incidents and provide them medical care. They help about 1500 dogs and cats get adopted every year!
How I Plan To Raise The Money
We plan to hold art parties where people can make their own dog and cat art projects.  We also plan to have bake sales with dog and cat cupcakes and other treats.  We hope you can come! We appreciate your support.  Every donation counts!!! Please donate today!
Mark Your Calendars for these art parties:
August 20 – 10:00 – 12:00 Learning Express in Alpharetta
October 15 – 1:00 – 2:30 – Out Of The Box Studio – Mini Farm
October 21 – 3:30 – 5:30 Learning Express in Alpharetta
December 3 – 10:00 – 12:00 Out of the Box Studio – Mini Farm
Registration for events: https://outoftheboxartstudio.com/kids-boost-fundraiser