Jason, Jonathan & Xander
Age: 13, 12 & 11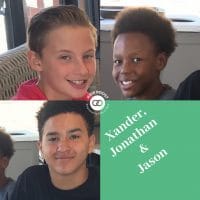 Charity:

Camp Sunshine
Fundraising Goal:

$2500
Project:

Ballin for Camp Sunshine
Date:

September 30, 2018
Location:

Mt Paran North
---
Why I Choose The Charity
We chose Camp Sunshine to help the kids have fun and the families not have to worry about their kids going through treatment.
How I Plan To Raise The Money
We are hosting "Ballin for Camp Sunshine" on Sunday, September 30th from 2:00 – 5:30 at Mt Paran North. It will be a 3 on 3 basketball tournament with double elimination.
The cost to enter is $25 a person or $70 a team.
To sign up please follow this link: https://docs.google.com/forms/d/1Fhp4aStc3u0YCqjTRo4Wikdrvj_W8XX7ObB_EepBeg0/edit
Come play basketball with us or come cheer us on as we raise money for Camp Sunshine!