Jerry H
Age: 13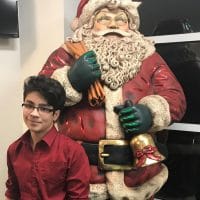 Charity:

Children's Healthcare of Atlanta
Fundraising Goal:

$5000
Project:

Feed The Family
Date:

November 11, 2018
Location:

1131 Bald Eagle Trace Hoschton, GA
---
Why I Choose The Charity
Children's Healthcare of Atlanta saved my little's brother life.  He was born with a mass (ccam) on his lung and we didn't know if he was going to live or die when he was born.  He had to get it removed and what was supposed to be a 3-4 day stay turned into weeks. He was in the ICU for over a week and a half, then in a regular room for another couple of weeks weaning him off of all the medications. I saw my parents sad and scared, not able to eat or sleep, not even able to relax for one moment, it was tough. When Javier finally came home, it was great! I wanted to give back and was too young to volunteer or just visit other kids in the hospital so me and my dad snuck in to the cafeteria on Christmas to feed folks. I knew the parents would have wristbands and that's who I wanted to target and pay it forward I wanted to at least bring a happy moment and a smile to them. It's hard enough being stuck in the hospital but over Christmas has to be really bad so I do it on Christmas Eve which was my nana's favorite holidays. My nana died 6 months after Javier was born so we say he has a personal angel above.  Help me bring a smile to some families this Christmas!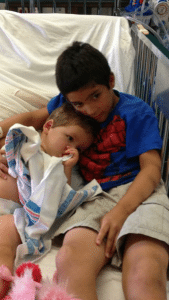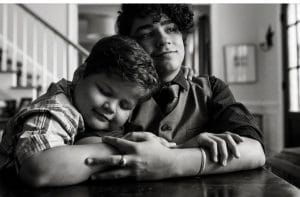 How I Plan To Raise The Money
I am going to host a few fundraisers from now until Christmas.
My first will be Sunday, Sept. 30 from 2 – 6 at The Wimbish House in Atlanta during Atlanta Streets Alive. I will be hosting a pop-up candy shop.  Please stop by and treat yourself to some candy while helping families at CHOA!
My second event will be a Block Party on Sunday, November 11th from 4-6pm at 1131 Bald Eagle Trace in Hoschton, GA.  I will have a bounce house, reptile petting zoo, soccer darts, basketball, snacks and more! Thank you to Astro Jump of NW Atlanta for the generous donations of activities and to Reigning Reptiles for bringing our reptile friends!
If you cannot make it to my event, but would like to help me feed families at CHOA, please make a tax deductible donation through this page.  You can also purchase an item off of my Amazon Wish List here: http://a.co/aiDwiA6
Your support means a lot!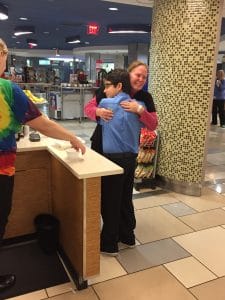 Thank you for your support!