Katie S
Age: 12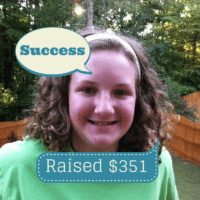 Charity:

Save The Horses - Horse Rescue Relief and Retirement Fund
Fundraising Goal:

$200.00
Project:

My very own greeting cards
Date:

ongoing
Location:

Save The Horses Fall Festival
---
Why I Choose The Charity
I chose to support Save The Horses because it is an organization that my mom used to take me to for occasional visits. While I was there, I became quite attached to some of the horses.  These horses had been rescued from harsh situations such as abuse and neglect. But thanks to Save the Horses' help, the horses have the food, love, and trust they need to live happily.
How I Plan To Raise The Money
I plan to raise money by selling greeting cards with photos I have taken.  Other items (such as t-shirts, calendars, etc) with the photos may also be sold.