Kylie and TJ
Age: 11 and 9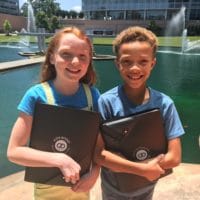 Charity:

Stand Up for Kids
Fundraising Goal:

$500
Project:

Stand Up and Model Fashion Show Party
Date:

October 13, 2019
Location:

Sterling on the Lake Clubhouse
---
Why I Choose The Charity
We want to raise money for Stand Up for Kids because they help at-risk kids get things they need.
How I Plan To Raise The Money
We want to host a kids fashion show with our friends. We plan to sell tickets for admission to the show, have each model raise money to walk in the show, have a photographer take pictures of the show that parents can buy, and sell snacks at the event.
More information to come soon!
In the meantime, if you are interested in helping us reach our goal, you can make a tax deductible donation through this page.  Just hit "support me" and be sure to put my name in the participant name section.
Thank you for helping us help kids!