Millie and Addison
Age: 11 & 12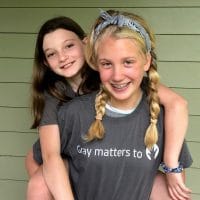 Charity:

Pediatric Brain Tumor Foundation
Fundraising Goal:

$2000
Project:

Bead Strong
Date:

November 11, 2018
Location:

Pine & Pigment in Cumming, GA
---
Why I Choose The Charity
Written by Millie:
I chose the
Pediatric Brain Tumor Foundation
because when I was six, I had a brain tumor. I know there are a lot of kids like me battling brain tumors.  They are struggling through surgeries and cancer treatments. I want to raise money to help researchers understand brain tumors so kids won't have to suffer with brain tumors anymore.
There are a lot of kind people who helped me and my family when I had a brain tumor.  My mom and dad say that they wouldn't have made it through my diagnosis without the help of kind people like the Pediatric Brain Tumor Foundation and the Lord. The Pediatric Brain Tumor Foundation also helps by emotionally supporting families as they go through the stress of brain tumor diagnosis and treatment.
Written by Addison:
  I choose
The Pediatric Brain Tumor Foundation
because several of my friends have had it including Millie. One of my friends died because of a brain tumor and she had turned 2 the week before. I want to help the doctors find a way to help people with it without taking their whole life away from them. My friends who have gone through it have had to learn to walk again and still struggle with things that happened as result of the surgery.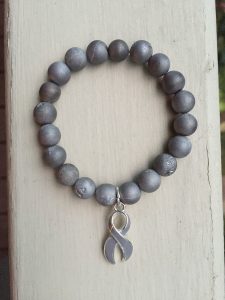 How I Plan To Raise The Money
We plan to raise the money by hosting a bracelet making and buying party where you can buy bracelets and make bracelets for children with brain tumors who are in the hospital.  We also plan to donate the proceeds we make from selling our bracelets at Pine and Pigment to the PBTF. We will also get money from online donations through family and friends.
When: Sunday, November 11, 2018
Drop in between 2-4
Cost: $15
You get to make a bracelet for your yourself and a bracelet for a child with cancer. You also get to make bead slime to take home. The cost to enter also includes snacks.  Additional tickets will be sold for raffle items and we will have bracelets that you can purchase as well.
Thank you for your help! We appreciate it!