Parker S
Age: 11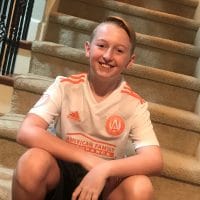 Charity:

Georgia Soccer
Fundraising Goal:

$1750
Project:

Going for the Goal
Date:

December 9, 2018
Location:

Cumming Elementary School
---
Why I Choose The Charity
I chose Georgia Soccer Organization because I am a huge soccer fan! I want to raise money for people who can't afford or can't physically play soccer.  I really like soccer so I want to give kids the chance to have the same love for it as I do so they can play soccer too.
How I Plan To Raise The Money
I'm going to host a PK (penalty kick) challenge to raise money. It will be for kids and adults with different age groups. There will be a cost to enter the competition and there will be prizes for the winners.  All of the money will go to Georgia Soccer to help other kids play soccer.
Sunday, December 9, 2018
1:00 – 4:00 pm (see schedule on ticket purchase page)
$10 per participant which includes 5 PK attempts, a swag bag, access to play other activities, and the chance to win awesome prizes.
There will also be snacks for sale, a raffle and lots of fun activities.  We will even have soccer darts and an inflatable basketball goal thanks to Astro Jump!
Would you like to volunteer or be a goalie for my event? Please email kristen@kidsboost.org to let us know.
***If you can't be there but you would still like to help me reach my goal, I am searching for great prizes for the winners, concession snacks, sponsors for the event and raffle items. If you think you might be able to help, please email my mom at kristen@kidsboost.org.   You can also make a tax deductible donation to this page to help me reach my goal.  I am so excited and hope you can help me***
Thank you for helping me help others!