Saya B
Age: 11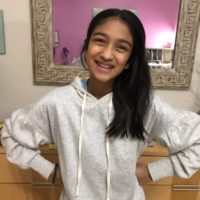 Charity:

Children's Healthcare of Atlanta
Fundraising Goal:

$850
Project:

Dance Marathon
Date:

May 3, 2019 4-6pm
Location:

Sarah Smith Elementary Intermediate School Gymnasium
---
Why I Choose The Charity
I chose to give to Children's Healthcare of Atlanta because I want to make a difference in helping kids have a better hospital stay.  My dad works at CHOA and I really admire the strength of kids and families undergoing health problems. I would like this donation to be used to make kids more comfortable and give them fun activities to brighten their day.
How I Plan To Raise The Money
I plan to raise money for CHOA by doing a Dance Marathon at Sarah Smith Elementary on May 3, 2019 from 4-6pm.  Participants will get sponsors for dancing 2 hours.
Click here to learn more information and sign up to participate!
We hope to see you on May 3rd!  If you cannot attend but would like to help me reach my goal, you can make a tax deductible donation through this page.  Just hit "support me" and be sure to put my name in the participant name section.
Thank you so much for helping me help children and families at CHOA!