Sophia A and Liam B
Age: 11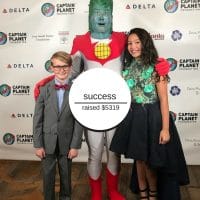 Charity:

Captain Planet Foundation
Fundraising Goal:

$10000
Project:

#LOL... Let Oceans Live Event
Date:

May 19, 2018
Location:

Rivers Academy
---
Why I Choose The Charity
Captain Planet works closely with youth interested in the environment.  They have several programs like Project Learning Garden, Project Hero and Grants. Here are our top 10 reasons we chose to help Captain Planet:
1.  They make the WORLD a better place by educated people about the environment.
2. They work closely with kids.
3. They have cool programs for kids.
4. They host cool events.
5. They push people to stop using plastic.
6. They care about animals and the planet.
7. They have a program on tv to reach thousands of kids.
8. They have a web based program.
9. Kids like heroes.
10. They have celebrity support which helps spread the cause.
How I Plan To Raise The Money
We are hosting the #LOL Party (Let Oceans Live Party) on Saturday, May 19th from 5-8 pm at Rivers Academy in Atlanta.  There will be food, games, activities, giveaways and raffles. The first 100 people to register will receive a swag bag full of goodies… so grab your tickets today!
Click here to get your tickets!
We also have a wish list of things that we are hoping to have donated to help make our event a bigger success! Can you help?
DJ
Kid Friendly Food
Desserts
Eco Friendly Swag
Auction Items (gift cards, prizes, tickets to events)
Green Carpet for the Step and Repeat
Balloons
We are also teaming up with
Sally B's Skin Yummies
  to share some great products while helping the environment!  Sally B's Skin Yummies is donating 25% of her sales on lip gloss and the B-Cool misting spray to our Kids Boost project for Captain Planet Foundation. Sally's products are AMAZING and you will be helping us help a great cause too! WIN-WIN!  Please use this link to make purchases: 
https://www.sallybskinyummies.com/?aff=9