Project description
I am hosting Gymnastics for Masks which is a family gymnastics challenge to help provide masks during the coronavirus outbreak.  It's a fun way to work together as a family to help others!
I challenge you to create a short gymnastics routine for your family.  Families can submit their video and make a donation through this page to help me reach my goal of supplying 100 masks.  The videos will be judged on April 24th and winners will be announced later that day.  There will be awards for Most Creative, Most Original, Most Funny and Best All Around.
Here are the steps to enter:
Create a gymnastics routine and teach your family.  You can use music if you want but please remember to not go beyond your limits in regards to your gymnastic skills.  We want this to be safe and fun (and also funny to watch your mom or dad try to do things like splits and cartwheels)!
Submit a video (it must be under 1 minute long) to enter the contest. You can either email it to kristen@kidsboost.org or you can post it on Instagram and tag @kidsboost and use #gymnasticsformasks. If you have any trouble posting or sending the video, please email kristen@kidsboost.org.
Make a tax deductible donation of your choice through this page (minimum donation is $9 because that's the cost of one mask). My goal is 100 masks or $900 donated!
Have fun, be creative and help us spread the word.
If you cannot create a gymnastics video but would like to help me reach my goal, you can simply make a donation through this page.
Thank you so much for helping me help others during this scary time!
Please click below to see my family gymnastic routine that we created to inspire others to get involved!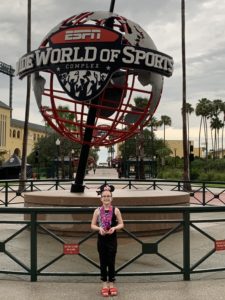 My project supports: our healthcare and community heroes!
I know there are a lot of hospitals needing masks right now.  Workers need protection because if they are working with people with the virus, they need to be protected.  We need to decrease the number of people with the coronavirus. I want to help the people who help others! I found some great masks that can be made for $9 each that we will order and deliver to local hospitals, clinics and nursing homes. I also hope to provide the masks to community heroes like police officers and first responders.
Thank you to my donors!
Adam & Brittany Price Price

$90

Kim Dyer

$10

Anonymous

$100

Tyler & Erin Scroggs

$45

Mitzi Williams

$20

Yashica Austin

$9

Laura Seifter

$9

Coni Adams-Moore

$50

Autumn and Scott George

$225

Brownie Barksdale

$10