Helping Others Home Run Derby
Project description
We want to have a Home Run Derby to raise money to help save dogs and help kids play baseball!
October 5, 2019
3-5 pm
Cook Field at Brinkley Park
The homerun derby is for kids ages 7-12. Kids will be divided into 3 age groups (7-8, 9-10, 11-12). A trophy will be provided for the winner of each age group. Snacks and prize drawings will be available for a small charge.
Registration is $15 per participant with a $30 family cap. Please register here.
Graham and Ethan are ready to hit one out of the park for Releash Atlanta and Smyrna Little League! Hope to see you all there!
If you cannot come to our event but would like to help us reach our goal, you can make a tax deductible donation through this page.
Thank you for helping us help more kids play the sport we love while also saving dogs!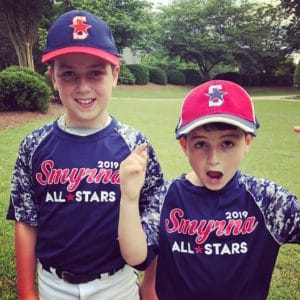 My project supports: Releash Atlanta & Smyrna Little League
We want to help Releash Atlanta and Smyrna Little League because we love dogs and think they are cute.  We also play baseball and want everyone to be able to play.
Thank you to my donors!
Anonymous

$30

Lauren DuPriest

$20

All of the generous supporters!

$3,292