Lemonade Bros Lemonade Stand
Project description
We plan to raise money by selling lemonade and doing a wheel spin to give prizes and help find a cure for Neurofibromatosis (NF).
Join us on August 9, 2020
1-3pm
Wheatfields Reserve Neighborhood (in front of the pond)
If you cannot attend our lemonade stand but you would like to help us reach our goal, please make a tax deductible donation through this page.
Thank you for helping us help others!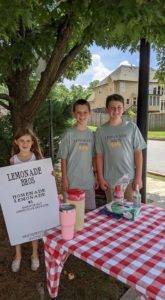 My project supports: Children's Tumor Foundation
We chose to raise money for Children's Tumor Foundation because we have a friend who has NF (Neurofibromatosis) and we want to help find a cure for it. NF can disable part of your body and you can go through painful and expensive procedures to treat it. The mission of the Children's Tumor Foundation is to drive research, expand knowledge and find better ways to help children with NF.
Thank you to my donors!
Mike and Amy Stagl

$150

Tiffany Gilford

$10

Christine Parker

$10

J Houser

$20

Laura Kendrick

$30

All of the event supporters

$775

Kathy Adams

$50

Dori Brand

$25

Michelle Meyer

$50

Carla Goines

$10