Project description
We are hosting a bracelet making party on Nov 11th in our hometown of Cumming, Ga at Pine and Pigment. For a donation, the community is invited to come make bracelets for themselves and for children in the hospital who are battling brain tumors.  Guests will be able to make a bracelet to take home, one to give to a patient in the hospital and make bead slime.  We will also have a yummy popcorn bar for guests to enjoy! We hope to see you there!
November 11, 2018
2-4 pm
Pine and Pigment in Cumming, Ga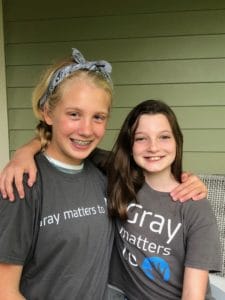 My project supports: Pediatric Brain Tumor Foundation
We chose Pediatric Brain Tumor Foundation because it's a charity that is important to both of us! From Addison: I chose this charity because some of my friends had a brain tumor, including Millie. One of my friends died because of a brain tumor and the week before she turned 2 year old. I want to help the doctors find a way to help people with brain tumors so it doesn't take their whole life away.  My friends that had brain tumors had to learn to walk again and still struggle with things as a result of the surgery. From Millie: I am a brain tumor survivor and I want to help other kids and families who have to go through the same thing.  I want to help find a cure for brain tumors.
Thank you to my donors!
All of the generous supporters!

$3,288