Ryan's Bar Mitzvah Project
Project description
UPDATE:  I am amazed by the support to send a kid to Gold Star Camp. I have raised my goal to $15,000 to send three kids to camp! Can you help me reach my new goal?!
Our soldiers have been at war, non-stop, for almost 19 years.  Both the physical and emotional cost of this war has been beyond comprehension. I think about our soldiers and their families a lot.
There is a very special organization that addresses the needs of America's Special Operation soldiers and their families called Special Operations Care Fund (SOC-F – pronounced sock-eff). SOC-F provides services and treatments to the soldiers, and their families, who have paid the high cost of war.
One of the programs that SOC-F funds that is very important to me is Gold Star Camps. Gold Star kids are children of soldiers who have been killed serving our country.
These ten-day, wilderness-based camps are held in Montana and pairs each Gold Star kid (age 8-14) with a service member who actually served with their fallen parent. The grown up volunteer serves as a mentor to give the child rare insight into their parent's life and values.
In the years following their experience at Gold Star Camp, kids have the option to attend leadership training workshops, summer internships, and to receive ongoing counseling, which are all designed to help the child get into college and be successful in their studies and beyond.
SOC-F is committed to these kids and so am I.
I have pledged to raise $5,000 to offset the cost of the intensive and long-term program – $5,000 to support the well-being of a Gold Star kid – who has made the most costly sacrifice I could ever imagine.
HOW YOU CAN HELP:
I plan to raise the money by auctioning off an American Flag that was carried by a member of Seal Team 6 while on their deployment.  The silent auction will run from May 21 through May 25, 2020 at 1:00pm. If you would like to bid on this special item, please click here.
Also, for a minimum donation of $25, I will place a patriotic ribbon on your mailbox on the Friday before Memorial Day weekend. To make sure you receive a ribbon with your donation, please follow these instructions:
When you donate please put "a soldier" under the "in honor of" option and place your address for the "mailing address of the honoree."  Please note: I am only able to deliver ribbons in the Atlanta area.
All donations are appreciated!  If you would like to help me reach my goal, you can make a tax deductible donation though this page.
Thank you for helping me achieve my goal of changing the life of a Gold Star Child.
My project supports: Special Operations Care Fund (SOCF)
I want to raise money for SOC-F because I love and value going to camp. I want these amazing kids to feel the same about camp. I am also blessed to have both of my parents and can't imagine having to through life without both of them. Another reason is that my family has been involved with SOC-F and has shared with me the amazing work that this organization does and the lives it has changed. These heroes and their families have made sacrifices I can't even imagine.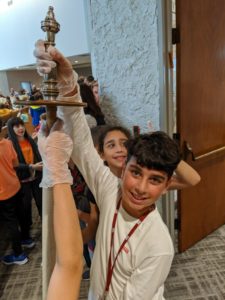 Thank you to my donors!
Anonymous

$2,307

Sean Purdy

$200

David Bloom

$54

Ilana and Todd Cohen

$36

Silent Auction Winner

$2,050

Anonymous

$25

Laura Balser + Matt Smith

$1,000

Ilene & Steve Leff

$100

Michael & Kim Dinerman Family

$50

KEITH Benbenisty

$100