Project description
I plan on hosting my very own cooking show called "Tastings with Thalía."  I have always had a passion for cooking so it feels natural to do something that I love for a great cause. For a donation of your choice you will be granted access to different cooking tutorials all directed and produced by me. These recipes will range, but will be geared towards kids my age. Parents, we know you might be going stir crazy at home, so this will be one less thing for you to do. I will show your kids how fun and easy cooking can be while using healthy ingredients as we all desire to boost our immunity. I am super excited about this endeavor and I cannot wait for your kids to join me on this tasty journey!
Cooking is fun, let me help you nourish your body by bringing joy to your table!
Remember all donations are tax deductible and will help me raise money for the End It Movement.  Thank you for helping me end human trafficking!
*** After you make a donation through this page, you will receive an email with a link to all of my cooking shows.  It is not an automated email so please don't be alarmed if it doesn't appear right away (we promise… we will send it ASAP!) Thank you for your support! ***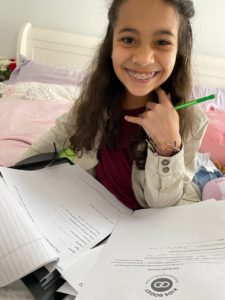 My project supports: End It Movement
I chose to support the End It Movement.  Human Slavery is the biggest human rights issue of our time and yet so many people are unaware of how prevalent and widespread it is. There are over 40 million people enslaved today, of which 71% are women and children. Atlanta, GA is one of the biggest hubs of human trafficking. I want to raise awareness and be a voice especially for young girls that have been silenced for too long.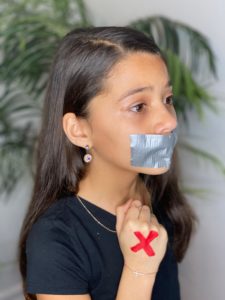 My mom took this picture - they are sad but sheds the truth to the seriousness of the situation.  I want to be a voice for young girls whose voices have been silenced.
Thank you to my donors!
Jeff and Sharon Castina

$50

Karen Mason

$20

Anonymous

$50

Jenni Brown

$50

Anonymous

$25

Taylor & Ella Parramore

$25

DEAN FUNG-A-WING

$60

Russ Snow

$50

Tía and Oom Gabe Fung-A-Wing

$50

Lindsey Rheinscheld

$50