Ansley K
Age: 9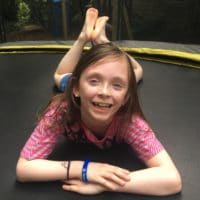 Charity:

Papa's Pantry
Fundraising Goal:

$2000
Project:

Ansley's Afternoon of Fun!
Date:

May 19, 2019
Location:

Eagle Watch Neighborhood Park
---
Why I Choose The Charity
I chose Papa's Pantry because they are very helpful! One reason is that they provide people with food when they have had a hard time.  Another reason is that they help people with job interviews. I chose this charity because I feel that helping people get back on their feet is wonderful. This is why I chose Papa's Pantry to raise money for.
How I Plan To Raise The Money
I plan to raise money by hosting a festival.  At my festival, I want to have two bounce houses.  I have a brother with autism and I want all kids with disabilities to have fun too! I also want a slime making station, a raffle and bracelet selling.  This is how I am going to raise money for Papa's Pantry.
 Join us on May 19th for an afternoon full of games, slime making , bracelet selling, bounce houses, obstacle course, pony petting, cookie decorating, rock painting, concessions, Kona Ice, a K-9 Unit, Firetruck, and an AMAZING raffle and silent auction!
May 19th 1-4pm
Eagle Watch Neighborhood Park in Woodstock
Cost is $10 per child, adults and children under 3 years old are free.
Children will receive a wristband with all-inclusive access to activities.
Food is additional cost and raffle tickets are $1 per ticket
Come and get a hotdog, pizza, or BBQ!!
If you cannot attend the event but would like to help me reach my goal, you can make a tax deductible donation by clicking "support me."  Just be sure to list my name in the participant name section.
Thank you for helping me help others through Papa's Pantry!