My name is Kate Bellamy and I couldn't be more excited to join the Kids Boost team! I currently live in Sandy Springs, GA with my husband, Jason, our two children, Henry (5) and Avery (3), and our rescue dogs, Kit and Suzie. Most days you can find us playing outside in our backyard woods or exploring other nearby trails and parks. I grew up in Decatur, GA, which sparked my desire to attend a college in a small town as well. I graduated with my BA in English from the beautiful campus of Berry College in Rome, GA in 2006. Although I love writing and still dream of one day publishing a children's book, my heart was happiest when working directly with kids. My high school and college summers were filled with babysitting and nannying adventures. After college, I worked at an inclusion preschool at Emory for children on the autism spectrum. This job solidified my desire to pursue a career in which I could help kids be kids even when faced with additional life challenges.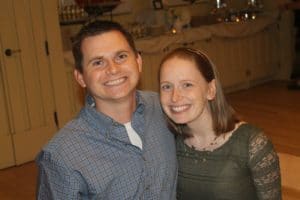 After getting married in 2007, my husband and I left everything we knew to follow his first job to Louisiana. I explored life in another small town, eating my share of crawfish and beignets and enjoying volunteering with some amazing organizations. I became a big sister with Big Brothers and Big Sisters of Louisiana and helped lead a book club for adults with special needs. I worked in another school for children with special needs before discovering the field of child life and pursuing a master's degree in Family and Child Development from LA Tech University. In my time working with kids in a variety of settings, I had witnessed children face communication challenges, struggle with after effects of severe neglect and experience the loss or separation of a family member. No matter the setting, situation, or scenario, I witnessed kids have impressive courage, determination and resiliency and somehow always find a way to have fun and build each other up. Child life presented the opportunity to work with children facing some of life's greatest challenges and help provide them with the tools they needed to navigate these challenges while still holding onto their childhood.
My child life internship and subsequent job at Children's Healthcare of Atlanta brought us back to Atlanta in 2011. I've had the pleasure of working on the neurology/neurosurgery unit and in the Aflac Cancer and Blood Disorder Center at our Scottish Rite campus. After my daughter was born I shifted into a PRN role for both our Scottish Rite and Egleston campuses. When I heard about Kids Boost, I immediately knew it was an organization I wanted to be a part of. I am thrilled by the opportunity to continue supporting kids, helping empower them to overcome challenges and find their voices, and to use their passions to make a difference in our world. I believe every child wants to be heard and understood and that every child has the potential to spark change in their community if given a voice and the platform to do so. I believe that my background in child development and experience as a child life specialist will allow me the opportunity to meet every child where they are and help them discover their passions, their strengths, their worth, and the unique impact they can leave on the world. I'm most excited to learn from and be inspired by the kids in our community. I cannot wait to begin this new adventure with Kids Boost and be blown away by passionate, caring, and creative kids!