Last Sunday at church, I was handed a reminder about an upcoming food drive for a local food pantry. It contained a "wish list" of items along with information about who will benefit from the donations. I've always loved a good canned food drive. It's a simple yet effective way for families to help other families. And let's face it, it's pretty easy. I typically just pick up a few extra items at the grocery store and my son drops them off because this gives him the opportunity to practice kindness and generosity. Win, win, right?!?
Yes! It's a win-win but why not take it one step further?
Instead of running to the store by yourself, why not bring your kids and get them involved? On the way to the store, talk to them about the food drive. This is the perfect time to open their eyes to the reality that there are so many kids, maybe even right down the road, who go without meals on a daily basis. If there is one thing I've learned, it's that kids are the most compassionate people and they welcome the chance to help others. They just need the opportunity and a little support.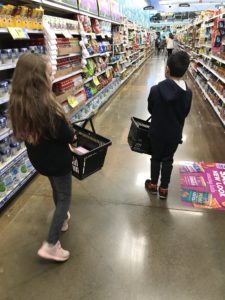 When you get to the store, give them a budget. This could be $1 or it could be $50… whatever fits your budget and you find appropriate for their age. After all, you might be at the store all day if you give a 5-year-old $50.00. You can also share a wish list of items or talk about non-perishable items. If you don't have a wish list, click here for a great article about foods to donate and things to avoid.
Let your child be the boss! Younger kids might need a little help, but allow them to select the foods they might like or foods they have in their pantry. Older kids can be challenged to find the best deals while staying in budget. Your job can be to calculate their purchases as they put them in the basket or you could completely step back with your older kids to give them an extra lesson in money management. Finally, allow your child to pay the cashier and take pride in their shopping.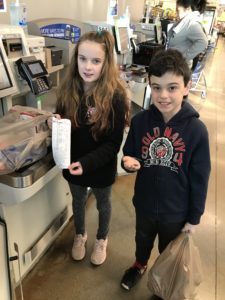 Sure, this might take a bit longer than if you just run to the store to grab a few items, but just think of the benefits. It's a lesson in humanity and a lesson in food shortage in our own backyard. Your child can learn the value of a dollar (cereal costs how much?!?) and a bit about managing their money. They'll have the opportunity to be hands-on in making a difference in their community and likely get a boost in self-esteem in the process. I promise this exercise will be worth every penny and every minute of your time!
Oh and you don't have to wait for an organized food drive in your community, simply search "local food pantries" to find a donation site or visit foodpantries.org. They'll be thrilled to have your support at any point in the year!