In the midst of all the chaos happening these days, it's always nice to escape into a good book. Whether we are reading for pure entertainment or for a purpose, books impact the way we think and act, therefore making them incredible tools for teaching our kids (without them knowing it!).
At Kids Boost, we believe it's never too early to expose kids to books with themes of kindness and helping others. During those toddler and preschool years, books can help kids learn to share and start to develop empathy for others. As kids get older, books can help them identify things they are passionate about and can expose them to social issues they otherwise may not be aware of.
Here are a few books that can help kids begin to understand the power and value of kindness/giving:
The Have you Filled a Bucket Today? book series helps  younger kids begin to think of others and share in simple acts of kindness to "fill the buckets" of those around them. This series opens the door to so many fun conversations and activities and gives younger kids a visual as they think about how they treat others. As a fun and simple follow-up activity, kids can decorate "buckets" (plastic cups and pipe cleaners work great!) and fill them with notes for family members or friends!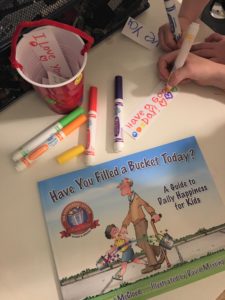 Another great book for younger kids is: One Good Deed. This book follows the ripple effect that one small act of kindness has on an entire neighborhood. After reading, parents and kids can brainstorm an act of kindness they can show for a neighbor or friend. They can even encourage neighbors to keep it going by challenging them to pay the kindness forward to someone else!
Be Kind is a compilation of simple acts of kindness kids can do to make the world a happier place. This book does a great job of offering suggestions kids can actually do on their own. It helps kids see that they can make a difference wherever they are with whatever they have.