Here is a recap of Week Two of Kids Boost Summer of Kindness:
Day 8 of Kids Boost Summer Of Kindness: We've all finished the statement "If I had a million dollars…" Now, let's change it up a bit. Take a minute and ask them who they would help if they had a million dollars. Who is on their heart? Is it the homeless, hospitalized kids, the elderly, military, animals… you won't know until you ask! Many parents have been shocked by the answer because as parents we often assume it's the same as us or we simply don't take the time to ask. So take a minute, ask the question and then brainstorm how you, as a family, could help them. If you need help brainstorming, reach out to Kids Boost… we can help!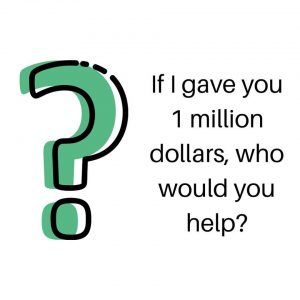 Day 9 of Kids Boost Summer Of Kindness: Create a Blessing Bag. Fill a bag with everyday necessities like toiletries, socks, bottled water and snacks. Once it's full, you can keep it in your car and give it to someone in need on the side of the road. This is a great way to teach kids compassion while helping someone in need.
Day 10 of Kids Boost Summer Of Kindness: Visit your local animal shelter and love on the animals. Everyone needs a hug and a snuggle. Bonus points for bringing in treats or other necessities for the shelter. And triple points if you bring the employees a treat (again, everyone needs a hug!).
Day 11 of Kids Boost Summer Of Kindness: Grab some quarters and head to the store to spread some smiles. Tape quarters to gum ball machines with a little note. After all, is there anything more fun for a kid than finding quarters to get a surprise treat?!?
Day 12 of Kids Boost Summer Of Kindness: Every kid should host a lemonade stand! Why not make it a lemonade stand to benefit a great cause?!? Kids will love the whole process… making signs, mixing lemonade, making the sale and donating the profit! These two cuties sold lemonade to raise money for MUST Ministries – We can't wait to see your pictures and hear who you are helping!
Day 13 of Kids Boost Summer Of Kindness: Deliver a treat to a friend or neighbor. What's more exciting than getting a knock on the door and opening it to find a big smile and a treat?!? Maybe find a neighbor you'd like to know better or a friend who's been having a hard time. Let the kids pick out the treat and personally deliver. We promise it will make someone's day!
Day 14 of Kids Boost Summer Of Kindness: Attend an event for a great cause. Find something in the community that interests you and show up with a smile! (Hint: Check out https://kidsboost.org/events/ for more info on events coming up in the Atlanta area)
We want to hear how you are spreading love this summer! Be sure to tag @Kidsboost on social media so we can share and inspire others!