My name is Chelsea Key. I am absolutely thrilled to be the newest member to the Kids Boost team as the Community Programs Coordinator! I am a Certified Child Life Specialist and a new mom to a little girl named Annie. My husband, Andrew, and I live in Brookhaven, GA. I am the youngest of three kids and as my dad likes to say, I am the "southern belle" of the family as I was born the year my family moved to Atlanta from Boston. I grew up in Marietta, GA in a tight-knit neighborhood. Two of the kids I babysat for in my neighborhood were diagnosed with childhood cancer. As the summer nanny to one of the families, I saw first hand the impact that childhood cancer can have on a child, their siblings and the entire family. I witnessed that kids are kids no matter a diagnosis and the importance of normalcy, routine and play are vital. This experience fostered a deep passion for kids facing hospitalization and illness and led to a career in child life.
I graduated from Auburn University with a degree in Human Development and Family Studies. I started my Child life career as an intern at Children's Healthcare of Atlanta in 2011 and still remain on staff as a PRN Child Life Specialist. I have been fortunate enough to work in Day Surgery, the Aflac Cancer and Blood Disorder Center and the Child Life Zone.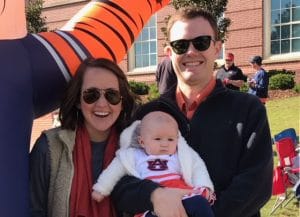 In 2016, I made a decision to do something more for the kids that inspire me most in this world. I shaved my head. Yep, I shaved it all! I was honored to have one of my dear patients, Sarah, shave my head to raise money for childhood cancer research through the St. Baldrick's foundation. My husband and I raised close to $7,000. Within the same year, Sarah, who gave me my most favorite haircut to date, passed away. Her legacy of unwavering faith, hope and advocacy that childhood cancer deserves more funding will always drive me to continue to pursue my passions and help others do the same.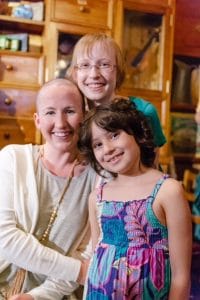 I stand firm in the belief that we as adults can learn so much from kids and their desire to change the world, because, honestly, they are our hope to do so. I am so excited to be a part of Kids Boost where I get to witness kids shine through doing what makes their heart happy!